News & Tips
Hydrotherapy for Women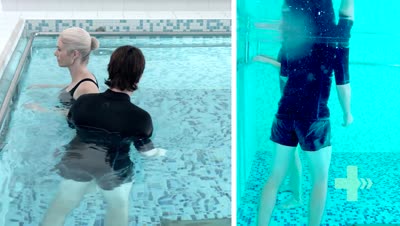 Macquarie Street Physiotherapy is pleased to announce we are commencing hydrotherapy classes for women. We have access to the women's-only hydrotherapy pool at City Tattersalls Club in Pitt Street, just south of the Mall. We are offering small group classes with a maximum of 5 per class. Classes run for 45 mins. Additionally, 1:1 sessions which run for 30 mins are also available. If you have extras on your private health insurance, you may qualify for a rebate for hydrotherapy run by a physiotherapist. Alternatively, your GP may refer you through the EPC Medicare scheme, which partially funds 5 sessions of 1:1 Physiotherapy (land or pool based) per year.
Why Hydrotherapy?
Hydrotherapy provides an excellent medium to exercise in, for a variety of conditions that may be better suited to water than land. Warm water promotes joint fluid viscosity, muscle and ligament flexibility and pain relief. This can allow movement that might otherwise have been painful. Buoyancy reduces bone and joint stress, and provides resistance to facilitate strength. The compressive force of immersion aides in swelling reduction.
Hydrotherapy is particularly helpful for swollen sore joints, such as hips and knees. It is the ideal exercise for pre-surgical and post-surgical total hip and knee joint replacement. Osteoarthritic joints will enjoy the heat, buoyancy and resistance of the water especially so for those with higher BMI's, reducing the pressure on those sore joints.
Strengthening of balance muscles and postural muscles will also help those with osteoporosis.
The benefit of hydrotherapy over aqua aerobic classes is that you are individually assessed by a physiotherapist, and your exercises in class will focus on your specific needs. Once you are proficient and confident with your specific programme we may encourage you to do independent pool exercises and, if capable, progress to an aqua aerobic class.
If you would like any further information about hydrotherapy, feel free to contact Macquarie Street Physiotherapy on 9221 1604
Our Mission:
To enhance the overall physical health, fitness, and quality of life for our patients. We provide high quality, comprehensive and individualised physiotherapy services.
Ask A Question