Tai Chi classes in Sydney City CBD
Macquarie Street Physiotherapy is delighted to bring Tai Chi classes in Sydney City to our clients. We teach a form of Tai Chi called "Tai Chi for Arthritis and Fall Prevention" which was developed by world-renowned Tai Chi master and general practitioner Dr Paul Lam.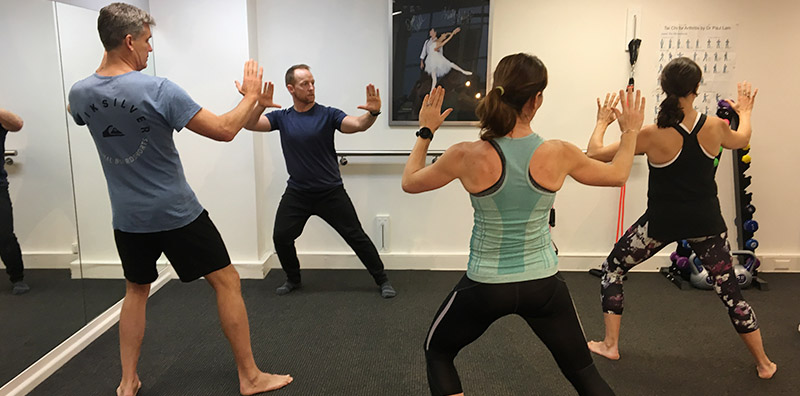 WHAT IS TAI CHI FOR ARTHRITIS AND FALL PREVENTION?
Developed almost two decades ago through a collaboration between Tai Chi masters and medical experts, the Tai Chi for Arthritis and Fall Prevention program is based on form from the Sun-style of Tai Chi.
It is ideally suited to people whose balance is faltering from injury or age-related reasons, or who are suffering from arthritis. It also benefits anyone else wishing to gain exceptional health and well-being benefits that Tai Chi provides: you do not need to be suffering from arthritis to benefit from the mobility and stability offered in this course.
The Sun-style of Tai Chi was developed in the early 1900s by Mr Sun Wu Tang. The smooth, natural movements tap into the body's natural reserves of internal energy to cultivate relaxation and healing. It has been likened to the power of a gently flowing river: seemingly calm on the exterior but governed by mighty currents beneath.
WHAT ARE THE HEALTH BENEFITS OF TAI CHI?
Reduced symptoms of arthritis
Improved balance
Reduced risk of falling
Relaxation and stress relief
Strength, condition and immunity building
Decreased blood pressure
It has also been reported that those who suffer from such ailments as multiple sclerosis, fibromyalgia or various types of addiction gain improvement of their condition through the regular practice of Tai Chi.
Injury from falls is not only painful but negatively impacts quality of life for at least some time. There are also the obvious medical costs associated with recovery. By learning and regularly practicing the seemingly simple yet deeply powerful movements of this program, you are conditioning your body to prevent the risk of falls over the long-term.
RESEARCH REGARDING FALL PREVENTION BENEFITS OF TAI CHI
This easy to learn and safe Tai Chi programme has been tested in numerous medical trials. Over 20 published studies have found that participants in this program have improved symptoms of arthritis, the risk of falls is reduced through better balance and many other benefits are also enjoyed.
One of these studies includes the world's largest trial on fall prevention conducted by Dr Alex Voukelatos in Sydney and funded by the New South Wales Health Department of Australia. It involved 701 subjects who participated in the Tai Chi for Arthritis and Fall Prevention program, and resulted in a reduction of falls of almost 70%.
The Centre of Disease Control and Prevention as well as the Arthritis Foundation in the US have recommended this powerful evidence-based program to its members. In New Zealand, the national governing body for injury and accident compensation, the Accident Compensation Corporation (ACC) formally recommended Tai Chi as a preventative measure in recognition of its effectiveness in reducing the risk of falls and injury and promotion of health. And for the same reasons, funding for Tai Chi for Arthritis and Falls Prevention training has been allocated by health or aged care government departments across NSW, Victoria and South Australia.
IS TAI CHI DIFFICULT TO LEARN?
This program is appropriate for people who have no Tai Chi experience, as well as those who do. It is taught in a step-wise fashion, so that progression is based on how readily the class is learning the content. It is recommended, but not essential, that some practice be done at home between classes.
MORE ABOUT CLASSES AND HEALTH CARE REBATES
Tai Chi classes run for 45 minutes, and cost $35 per session. Up to 6 participants are in each class. Classes are run by Macquarie Street Physiotherapists.
Most health funds provide a rebate for Tai Chi with physiotherapy extras cover.
HOW DO I GET STARTED?
We currently have two weekly classes running, and will commence further classes according to demand. It is recommended that a group start together, for an 8 week course, with the option to continue on a weekly basis.
Please do not hesitate to contact Macquarie Street Physiotherapy, Sydney City CBD on 02 9221 1604 to find out more about this safe and easy-to-learn Tai Chi program for pain relief, balance and well-being.